Count on Techno Plastimer for all types of Resins including general purpose resin, PTA resin, marble grade resin, unsaturated polyester resin, quartz resin, rooflite resin, laminate resin and many more.
About Us

Techno Plastimer is one-shop for Orthophthalic Base Resins, Isophthalic Base Resins, PTA Base Resins, Gelcoat Resins, Putty Resin and speciality resins. Established in the year 2000 and is an ISO 9001:2008 certified company by Intertek. Our company is working as a renowned resin Manufacturer, Exporter and Supplier. Our complete range of Marble Grade Resin, Quartz Resin, Boat Grade, Rooflite Resin, Laminate Resin, SMC, DMC, Pultrusion Grade Resin, PVC Grade Resin, Fire Retardant Resin, Gelcoats, Putty Resin, Vinyl Ester Resin, Bisphenol Resin, etc.; gives a combination of good quality and good value. These products find its usage in the applications of UPR. We specialize in producing unsaturated polyester resins. The resins can be identified on the basis of their reactivity, viscosity, and impact resistance. Based on these factors, the applications of the resins are defined. The major applications of our offered range include fibreglass reinforced plastics, FRP chemical equipment, FRP boats, cooling towers, buttons, laminations, roofing, sheet moulding compounds, dough moulding compounds, pultrusion, car patch putty, ISO base putty, artificial marbles & quartz, and amusement rides FRP body. The resins are widely distributed throughout the country. Besides, for providing superior quality products, we also provide after sales services to the clients.


Known for their chemical properties, the resins are transparent and yellowish in color. The Orthophthalate base resin is a raw material that is used in general purpose polyester resin, while the Isophthalate base resin is used in making corrosion resistant polyester resins, which are waterproof, higher in strength, and possess greater flexibility.
Being in this industry for 30 years, we have been successfully serving the resins needs of the clients. And, all this has been possible with the able guidance of our mentors, Mr. Bharat Desai. His rich industry experience and business acumen have helped us to craft qualitative range that is delivered to the clients' place on time and within their budget.
Why Select Techno Plastimer?
Broadest Range Of Resins
Customized Solution
Quick & Cost Effective After Sale Services
Completes The Work Within Stipulated Time
Fair Prices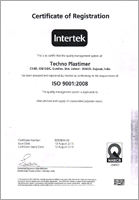 Most Popular Products
Latest Trade Offers
Carving a special corner for ourselves in the industry, we are engaged in exporting, manufacturing, supplying and trading of Orthophthalic Resin in Va..
Owing to the efforts of our qualified professionals, we have been constantly involved in exporting, manufacturing, supplying and trading of FRP Resin ..
Contact Details
Mr. Nirmal Desai (CEO)
Mobile : +919979189701
Mr. Bharat Desai
Mobile : +919825169973
| | |
| --- | --- |
| | TECHNO PLASTIMERS All Rights Reserved. |